9 SIGNIFICANT WAYS TO HELP YOUR KIDS FIND THEIR IDENTITY IN CHRIST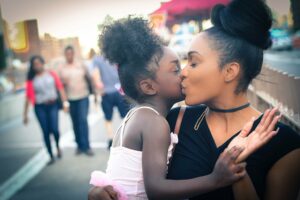 Nothing can explain the war that goes on within me in my dorm on the last day of school. I just can't wait to get home! From sweet-smelling bedspreads to 'welcome back' hugs to the aroma of mama's food, there's always something to crave for. Nevertheless, nothing beats the evening time; the time when it's just me and my kid bro, discussing his crushes (I bet you were thinking I'd say, grades.)
As we talked one evening, he confided something very important to me. He said, 'People have never really liked me for who I am. But I discovered that when I knew all about trending music and movies, I became popular and people started talking to me. The problem is, I still feel worthless.' Yes, it was quite shocking to hear. He's so free-spirited and a talker.
Like my little brother, your child may also be surfing on life's oceans trying to find themselves and have a sense of identity. You may not know but they struggle just as you do.
Our sworn enemy will stop at nothing to have them find an identity in being the most popular, beautiful, intelligent, rich, and just about anything as far as it's not Christ (1 Pet. 5:8). He's gonna fill them with tons of lies that seem so true (Jn. 8:44). But that's why you're here; to do something. So, what can you do? I hope these help:
1) CREATE THE 'WHO I AM IN CHRIST' AURA IN YOUR HOME (Deut. 11:19):
In a world where everything seems to point to an identity outside Christ, the minds of your kids will need a revamp (Rom. 12:2). Sitting your kids down to tell them who they are in Christ will be quite helpful. But the sad thing is, no one likes a lecture, even though it's just for ten minutes (most especially your kids). So, go further, make it real. Paint the 'Who I Am in Christ' picture in your home. I don't really mean a picture but that's not a bad idea after all.
Get creative with sprays and let your children paint who they are in Christ. Birthdays are really special and boy! I'm sure they've got enough dolls and race cars. Consider getting them a really nice box filled with exciting notes about who they are in Christ. Make them as creative, fun, and eye catchy as possible. You could also get teddies with 'I'm royalty' or 'I'm wonderful' tags on them for your kids. Get bracelets for your girls that remind them of their identity in Christ. In one way or the other, your kids will always have an idea of who they are in Christ.
2) SEARCH FOR OPPORTUNITIES (Eph. 5:16):
When last did you watch a movie with your kids? You can discover limitless opportunities to instill a Christ-like identity in your kids simply by watching a movie, reading a book, or building Lego with them. As you watch Barbie, ask your daughter if she's confident that she's prettier than Barbie or your son if he's stronger than Superman.
If the answer is negative, you can go on to tell your son or daughter that being a superhero or pretty princess is not enough to validate their worth. Tell them that they are enough because they're already princes and princesses in Christ with amazing superpowers. In fact, they are way better, they can do all things; even things impossible for Superman (Phil. 4:13). Watch their faces light up. With constant reminders, their identities will be grounded in Christ.
3) DON'T PLAY THE COMPARISON GAME (2 Cor. 10:12):
Let's say your child happens to walk through the front door that sunny afternoon holding her report sheet in her hand. A little bit shaky, she hands it over to you and puts her head down anticipating your next reaction. You then look at her meanly and tell her how her younger sister always aces her report sheet while she on the other hand is just a failure.
As a parent, you've just ruined all that is left of your daughter's sense of worth which will lead to identity crises. In no little time, her identity will be defined by how good her grades are or by the reaction on your face. Don't let this be so. Challenge your kids to be better than their previous selves. Tell them you're proud of who they are and you would never want another option. You'll be building an identity on the rock.
4) FAN THEIR GIFTS NOT THEIR FAULTS (2 Tim. 1:6):
When I was younger, I was constantly told I was too slow at almost everything. To this end, I tried so hard to be fast to gain approval. I found my identity in the smile or frown on my mother's face. All your kids have got some gold hidden in them by God (2 Cor. 4:7).
It doesn't make sense when you only fan their faults. Rather, help your kids dig up the gold in them. Encourage them to use their God-given gifts even though they seem 'insignificant.' Help them find the God-given strength in their flaws (2 Cor. 12:9). This way, you'll strengthen their Identity in Christ and help them be all He desires them to be.
5) CELEBRATE THEIR WINS BUT DON'T MAKE A HABIT OF IT:
There's a particular food I cook so well. Anytime I cook it, you should see the smile on my face as my mother's compliments roll in including telling me I could present it even before a king. Though I love those moments, there's a downside. Anytime my mom doesn't compliment my cooking, I get down. I feel I didn't do enough and I may end up glum all day. Yeah! It can be as bad as that. As a parent or guardian, normalize complimenting the little things your kids do. You can even attach rewards like bravery badges to it.
But try ignoring it once in a while and watch their reactions. If negative, take the opportunity to remind them that their worth is found in Christ alone and what He has done for them and not in their accomplishments while not neglecting to show that you appreciate all they do.
6) HAVE LISTENING EARS AND WATCHFUL EYES:
It's so hard to share problems with a dad who is always busy in the study and postpones all of Junior's talks till later which never arrives. As a parent, guardian or even teacher, create time to talk with your kids. Ask them how school went, what their problems are, and how they feel about themselves. As you relate with them, let down your ego and talk to a nine-year-old as though you were a nine-year-old.
Don't be quick to smash them in the face for anything they say or begin to constantly remind them of what they've confided in you after the conversation. You'd be surprised at what you hear. As you listen, wear their shoes (as tiny as they are) and ask the Holy Spirit for wisdom to creatively pass the message of a new identity in Christ to them (James. 1:5). Believe me, it'll be worth it.
You tell your kids, 'In Christ, you can do all things,' but you constantly make statements like, 'This is way too hard. I could never do it.' These negate your words of faith which further confuse your child. There's no greater way to teach a child than by walking the talk (1 Jn. 3:18). If you're telling them that their identity is found in Christ, you shouldn't be found looking elsewhere for yours. Let your children watch you kneel down and pray to God to help you strengthen your identity. Let them watch you affirm His Word constantly reminding you of your own identity in Him. You'd be surprised to see them doing the same.
8) ACCEPT THEM FOR WHO THEY ARE NOT WHO YOU ARE:
We have the books of 1st and 2nd Timothy because Paul who was Timothy's father in the faith didn't scream in Timothy's ears, 'Why can't you just be bold enough like me? C'mon Tim, you're not just trying hard!' Paul rather encouraged a timid Timothy and didn't expect him to be like him (Paul).
The same goes for your kids. The fact that you were a straight-A student in school doesn't necessarily imply that your child's a failure if he/she can't be the same. Of course, this doesn't mean you'll make room for complacency, but start by appreciating them for who they are and dumping your unrealistic expectations for them in the trashcan. This way, their unique identities in Christ will thrive.
9) ASK FOR GOD'S HELP:
Every child is from the Lord. He's the giver of children (Psalm 127:3-5). Without God helping you find your own identity in Him, you'll never be able to pass the baton on.  You'll also need God's help to strengthen you for the battle for the minds of your kids. You can't really control everything they hear, watch, or even places they go to. But God can. So, you trust Him each day, each moment as often as you can to keep your kids' minds free from the attack of the enemy. He's faithful. He'll see to it that your desire is granted. After all, He delights in you sharing His identity with them.
Your children need a sense of identity, just as every normal human does, including you. Don't let the enemy reorient their minds with a false sense of identity. Rather, take your stand and perform your God-given responsibility to your kids. Don't be a willing party to their death (Prov. 19:18b).