How Couples Can Lead Amidst Rising Cases Of Covid-19 Victims, Part 3
We need leadership at the moment that people are dying from the covid-19 pandemic. Some of our trusted leaders have flouted the safety rules again and again and have undermined the counsels of medical experts and, as a result, we seem to be paying a difficult price for such a flagrant display of arrogance and mendacity.
As we speak, the United States of America is seeing an uptick
in the number of cases recorded per day as victims of coronavirus. For three consecutive days, she has recorded more than 40000 cases per day and the latest news has it that more than fifty thousand people tested positive for the disease. It sounds like her worst number is yet to be reached. This is one great reason that we shall continue to talk about your leadership position at home, hence the purpose of this article titled: "How Couples Can Lead Amidst Rising Cases Of Covid-19 Victims, Part 3."
There's a family behind every death. It pains when someone dies, and the pain is even far-reaching when you can't say goodbye to a loved one. You as couples and your families can actually do something to slow the spread. Complacency is not something anyone can afford. You've got to be responsible, NOW! To bring you up to speed on the series, please read part ONE and TWO.
Yes, you've got to do something to prevent contracting this disease. And what should you do? You've got to:
1. Avoid overcrowded places as of first priority.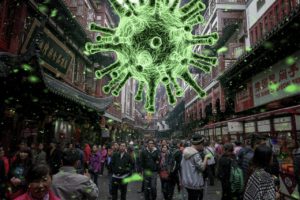 Crowded places are riskier because there are asymptomatic carriers of covid-19 who literally show no sign of the illness externally. So you think that they are well but they can easily pass on to other people who have weaker immune systems and these newly infected individuals might not make it through. Crowded places are not only air-tight, where the circulation of air or ventilation is low, they also put people at risk because those there are in close proximity and can pass the disease easily onto others via breathing in droplets exhaled by infected people. If you must go to places like the open market, wear a face mask for protection. You never really know.
2. Observe social distancing rules. Observing social or physical distance means to keep away from people a distance of 6 feet from each other. This cannot be overstated. It's just what it is. Stay away from others with at least 1.5 to 2 meters distance between you and others. This reduces the chances for you to catch the virus from others. You can read more on this HERE.
3. Clean strategic places at home or office.
Strategic places are those that are often touched at home, office, and other places that you control and visit frequently. These places include doorknobs or handles, window knobs, and proximity areas including the frames, the knobs and handles of cooking wares, and other appliances in the kitchen. Each home is different. So do assess your home and clean the areas of home appliances frequently touched by people within your home. Do not clean with water alone but clean with some kind of soap too or an alcohol-based sanitizer. Sanitizers do the magic of a disinfectant. It disinfects the areas from bacteria and viruses that you aren't even aware of.
4. Carry hand sanitizers with you as a necessity.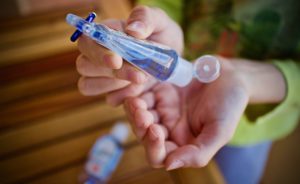 It's very difficult to avoid touching places, and things as you move about in public spaces. Even your own car isn't under your control totally because when you park the car, anything can happen. You can inadvertently or advertently touch a place that was touched by someone with the covid-19 disease and end up contracting the virus from there. To protect yourself, carry a hand sanitizer with you as part of your accessories. And not only that, use it more often as you exit wherever you might be. Ladies can put a small container of hand sanitizers in the handbags, pockets, etc.
5. Make Contactless payment an option than touching terminals.
Technology is rapidly evolving and today you can smart pay for shopping using your telephones, scans, or using the traditional terminals without necessarily touching them for code input. See what is available within your region and make use of it if possible. This is another way to stay off public places touched by everyone. Staying off reduces your chances of contracting covid-19.
6. Sanitize hands after using the ATM terminal.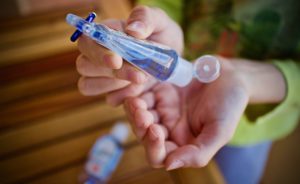 In cases that you have to use the ATM for payment or withdrawal, make sure that you wash your hands or sanitize them immediately after use. I didn't say later but immediately. This calls to mind the handy sanitizer necessity. You don't have to use that ATM and wait until you go home to wash up. By the time you are home, you might have touched somebody who will touch another person, or you may have touched and consequently, contaminated other areas of your house in order to get to the point of washing. So it's always advisable to clean up immediately after using any ATM.
7. Consider sending others to run errands for you.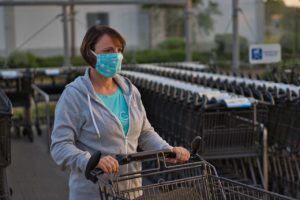 In cases of weakness, sickness, or when you are advanced in age, you should protect yourself even more than the youth should. We're not saying that young people do not contract covid-19, but they might survive it better than those with comorbidity or underlying cases of sickness of some kind. The elderly ones are more vulnerable than the younger ones. It's better to consider sending the children or grandchildren for errands in cases where the elders are vulnerable.
Finally, you've to understand that every death comes from a family, and has a mother and father, could be a brother or sister, a wife or husband. Everyone who is killed by the virus comes from a home. Some are couples, some are singles, who could have taken personal measures to protect themselves against the virus had they known.
Don't hurry to your own grave by doing nothing to protect yourselves. Do not hurry to flout the safety guidelines because of the economy. This is how couples can lead amidst the rising cases of covid-19 victims. If you hurry to do something and break all the rules for your safety, they would hurry to carry you to the grave. Stay safe, everyone.