10 Practical Ways To Reignite Lost Love In A Relationship
On a summer evening just after sunset, two love birds flew happily gracing the red-lit sky. What a sight to behold! It was obvious – these lovebirds were in love. As the wind blew harder, however, these lovebirds grew farther and farther apart until they lost it. Right now, it's official, they are 'hate birds.'
Like these two lovebirds, you and your partner must have probably started out on the right foot, with chills running down your spine at the mere mention of your partner's name. You may still vividly remember when you first fell in love and he played Romeo as you sang 'I love you.'
In no little time though, this love that once held you spellbound seemed to have vanished into thin air. The fire of desire that burned brightly in your heart slowly turned cold as ice.
Now, you're confused, especially knowing that this is certainly not God's will for your relationship. You know God has and will always want the fire burning in your relationship (Lev. 24:2). You're also aware that He desires that you keep aflame His gift of love to you and your partner in your relationship (2 Tim. 1:6). What puzzles you now is: How?
The following points will show you 10 practical ways to reignite lost love in a Relationship. These are things to do when you no longer feel those butterflies you once felt when you were with your partner. Do read on!
1) FILL YOUR LOVE TANK
Nothing makes God happier than seeing His children live out His will. Believe me, God earnestly desires to see you and your partner in love (1 Jn. 3:11). He ordained marriage and desires to see love flow through it. However, if your relationship is suffering from love starvation, then it probably means you need to fill your love tank. How do you do that? By asking love itself, for God is love, says the Bible (1 Jn.4:8). When you ask Love (God), He'll come and dwell in your relationship and fill it with His love (Rev. 3:20). All He desires of you is a broken heart yielded in total surrender (Ps. 51:17). It's also interesting to know that He's a consuming fire (Heb. 12:29). Imagine that sort of fire on your cold relationship.
2) LEARN FROM GOD'S LOVE STORY
Imagine having to learn how to make hot dogs from McDonald's himself. Thrilling, right? Since creation, the Bible tells how a King tries to rekindle His lost love with His bride. Who is this King? God. And the bride? You and I. For your relationship whose love has grown cold, consider studying God's own love story written in His Word. Studying it reveals His behavior toward His bride as compared to yours with your partner. You see your strengths, weaknesses, and areas to work on. You're also comforted, and encouraged and you come to realize what true love is (1 Cor. 13:4-8). Take out time to learn from God's love story. It has worked wonders for others and it will for you.
3) DIG IT UP FROM THE ROOTS (Ps.11:3):
There's no smoke without fire. If your relationship has gone cold, something must have placed it in the fridge. For example, your love may have gone cold because your partner traveled to a new state, cheated, was highly irresponsible, or even because he was totally not the Lebron James you had in mind. It's not time to cry. It's time to dig it up and come up with novel solutions. For example, after identifying distance as the root, you can plan a visit to your partner over the weekend or video call this Sunday. When the root remains; no matter the pruning, you'll still produce the same fruit. Identify the root and dig it up. God has given you the power (Jer.1:10).
4) RELIVE YOUR LOVE DAYS: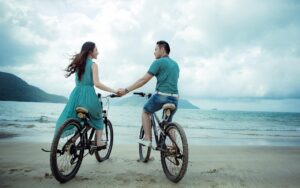 In the book of Revelation in the Bible, when God reprimanded His bride for abandoning her first love, He had this to say: '…repent, and do the works you did at first…' (Rev. 2:4-5). The relevance of this verse remains unfaded. What were those lovey-dovey days together like? Did you watch a movie? How did it make her feel? You can now consider taking her to see that same movie. Here's a hint though. Recreate the scene to look like five years ago when she was nuts for you. This will go a long way in sparking those fires that have been watered down.
5) ACCEPT YOU'RE WRONG:
Most times, all it takes to freeze love is when both partners can't come to terms with saying, 'It's all my fault. I'm sorry.' If your desire, however, is to unfreeze that love, then someone has just got to do it. Don't look the other way. That someone is you. Go to your closet, get a journal, write a list of your bloopers, and admit to yourself that you actually made a mistake but right now, it's time to make it right. Then, approach your partner. Our Husband (God) in Heaven delights in us first admitting that we are wrong before we even ask Him for forgiveness (Ps. 51:3, Prov. 28:13). That's a basic step in restoring love grown cold.
6) TALK IT OUT
After looking introspectively and accepting your fault, it's time to do the talking. You can begin with a casual, 'I'd like us to talk,' or 'When will you be free?' After deciding the perfect place and time, you go ahead and talk it through with your partner. Allow him/her to spill out everything; his/her thoughts, fears, anger, worries, and whatnot. As he/she does this, don't be in a hurry to defend yourself or give the 'in your face' replies. Rather, listen attentively. Admit your 'wrongs' and ask for their opinion on how to restore the relationship. Of course, they might be a little apathetic at first. But with patient persuasion and appropriate behavior, you'll win them over (1 Pet. 3:1).
7) SAY THE RIGHT WORDS (1 Pet. 4:11):
Some words are like waterfalls that can quench a bonfire not to mention a tiny spark of love striving to burn. When you constantly remind your partner of how 'unfit' or wrong they are for you; how you regret being with them and the very thought of them bringing you goosebumps; you're just succeeding in quenching all that is left of your love. On the contrary, when you constantly remind Bob of how much you appreciate him mowing the lawn always and how mundane life would have been without him, you'll keep Bob happy. And if Bob is happy, it's likely you'll be happy too. What better way to reignite love than with two happy people?
8) SILENCE THE SILENT VOICES:
You may be really trying on your part to rekindle your lost love with your partner but those voices; those silent voices keep reminding you of how terrible your partner is. What to do with them? You hold them captive in the dungeon of the Thought Master (2 Cor. 10:5). When that silly thought pops up telling you how Anna has been so rude lately and how nice it would be to give her a really good tongue-lash when she gets home, quickly rebuke the thought in Jesus' name and revert your thoughts to the things worth thinking about (Phil.4:8). Good news is, you don't have to run to your room to do this. Right where you are, under your breath, is just right. You love first with your mind. So if you think right, you'll live right and you'll love right.
9) ACCEPT THAT THEY'RE HUMAN – JUST LIKE YOU:
When you first fell in love with your partner, I'm sure he/she was the sweetest person in the world. Nevertheless, as time passed, your partner's flaws became quite glaring – staring right at you in the face. What do you do now? Simple. You dump those 'He must be perfect; just the way I want' mentalities in the trashcan and pick up the 'No one's perfect; not even him' from the desk. Settle it right now in your heart that God never makes perfect people (and that includes you). Accept your partner for who he/she is, just like Christ accepts you (His bride) despite your flaws (Rom. 5:6-8). Then help your partner become the kind of 'perfect' God desires. Love will come alive again.
10) SEEK COUNSEL (Prov. 11:14, 15:22, 24:6):
In restoring our love story with our Maker, we sometimes need mentors, role models, and coaches. These are not far-fetched in a relationship. Your pastor can help or trusted friends or even professional relationship counselors and therapists who give expert advice from their wealth of experience. Books, movies, magazines, and websites like this one, pertaining to relationships may also prove helpful. Just ensure that you're imitating people who imitate Christ (1 Cor. 11:1). Also, having people you are accountable to goes a long way in rekindling your love story. And don't forget, you're accountable to God for your relationship too (Rom. 3:19, 14:12).
Hey, the most reliable source in history tells us that, 'Love endures…it never fails…' (1 Cor. 13:4-8). So, it means love actually never dies. If the love in your relationship has grown cold, then there's always hope of heating it up again.
In the meantime, follow these steps, strive, rely on the Holy Spirit's help, and work with your partner. If they're unwilling, don't give up. They'll come around.
Do you know why I'm this confident? It's because you've got the assurance of God Himself.
Now get up and set that love ablaze. Got it?