The Mystery Behind Marrying Right And Maintaining A Godly Home, Pt. 2
This is the sequel to the article, THE MYSTERY BEHIND MARRYING RIGHT AND MAINTAINING A GODLY HOME, in case you have not read it. Reading the prequel gives you a better understanding of the subject matter from the writer's point of view.
HOW TO RECOGNIZE THE LEADING/GUIDANCE OF THE HOLY SPIRIT ON THE WILL OF GOD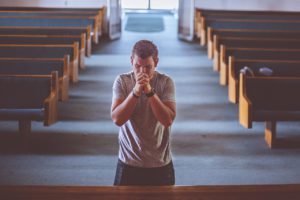 To be led by the Spirit of God is the will of God for us His children. Psalm 105:4 says to look to the Lord and His strength and to seek His face always. Not once but every time and in everything. And Ephesians 5:17 adds that you and I should endeavor to understand what God's will is, I mean, to know what pleases the Lord. God wants you to know His will and plans for your spouse and family. Seeking a life partner is one of those areas in which we have to apply these Bibles verses.
As I said here earlier, after I uttered that prayer that God should guide my Husband to me, I was patiently waiting for that man the Holy Spirit will bear witness as the will of God. Naturally, all the men that approached me before my Husband eventually showed up, my heart didn't go with them, I had a strong feeling within me that they aren't the one, not because I hate them (which I never did), but the Holy Spirit within me was strongly opposing them, a feeling of not this one and yes, I was sensitive to that guide.
On The Mountain
On a particular afternoon, I was sleeping in the living room when I heard it clearly in my subconscious state that I should get up and get dressed and go to a nearby mountain. I stood up immediately, got dressed, and set out. I arrived at the mountain and immediately I set my feet into the environment, Holy Spirit told me to greet the first person I come in contact with and I did exactly what I was told.
Surprisingly, the woman said the same thing that the Holy Spirit laid it in her heart to deliver a message to the person that greets her now, although it came as a surprise, at the same time I was expecting the answer to my request from God. She told me that God spoke to her that He is sending His will, the man He wants me to marry to me, this week. I was happy and eager at the same time, but then, I was already prepared to hear God even when the person comes.
The Man, His Will, Uncovered
In that same week, as God promised, the man showed up, He is already a friend, a brother in my church, a youth president. Although we talk casually, there has been no relationship other than mere friendship. He voiced out that God told him I am his wife, I laughed about it at first but I told him to give me some time to also hear God.
He approached me with the question "will you marry me?" It got me laughing but I was sensitive enough. He already gave me the picture of what He wanted which is a serious relationship that will lead to marriage. I presented the case to God and I asked for signs to know that truly he is the one and God confirmed through the signs I asked for. After a few years of knowing each other and courtship, we got married. I can boldly say that It pays to wait on God.
Waiting on God leads to no regret, it leads to bliss, peace of mind, and comfort because God knows what is best for us and He gives us when we ask of Him Matthew 7:9-11.
I encourage you as singles to get married to the Holy Spirit and allow Him to guide, direct and teach you because it's only through His leading you can have access to God's will for your life.
HOW CAN YOU ACHIEVE THIS?
1. Accept Jesus as your Lord and savior.
2. Leave behind old ways and walk in the light of your salvation.
3. Accept the Holy Spirit into your life and He will, in turn, help you to live righteously.
5. Engage the Holy Spirit and tell Him to lead you in choosing God's will.
6. Lastly, do not be in haste, be patient and also sensitive to His leading.
Read the Prequel and the Sequel
Written for Smartcouples.net © 2022. All Rights Reserved.