The Advantages Of Social Distancing – Covid-19 Crisis & Effects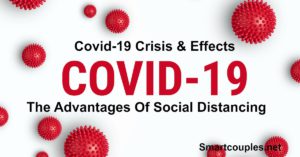 Mitigating the effects of Covid-19 was on the mind of whoever coined the words "Social distancing."
Social distancing isn't a good word-phrase to use because it is very difficult to impose, although they use the word phrase to mean "physical distancing". Actually, that's what they should have called it–Physical distancing– because you can never distance yourself socially but you can physically. And this is required as a policy to help curb the spread of Covid-19.
While you are physically distant, you are socially engaging and present online. To work online is not social distancing but physical distancing. To chat, send & receive SMS and emails, making calls, twitting, instagraming, snap-chatting, face-booking, and being active in other social media platforms are all social interactions and never social distancing. These are the practices that seem to increase these days amidst the crisis.
However, Since people are told to avoid contacts or stay away from each other physically, let us consider some advantages of this policy.
1. The Covid-19 is coming to an end with glory going to God
What I wanna say here is an inspiration which I got from the prophetic word of the man of God, Reverend P.C. Akubueze. It's my view which you might disagree with and that's fine. As for me and my household, I believed what he said.
He told us that "the killer virus is a giant that could kill far more than any other disease that preceded it." But that "it has fallen by God's intervention."
We are so thankful for the medical officials of all levels putting their lives at risk in order to help people get well and save the lives of countless others. We are grateful to all public officials who take the threat seriously and are doing their very best to save the lives of their citizens.
However, how would you explain it, or what would you say in a situation that has killed thousands and has the potential of killing millions within a short period of time, that the treatment or the cure to it is a medicine that already has been in existence for years and that has been used for something other than for the killer coronavirus? "That pride of men  having discovered a cure is taken off the table here since nothing new is discovered." Isn't it?
But "wisdom from God has been given to those scientists who are working hard to find a solution. They would see the effectiveness of what they already had to solve the Covid-19 crisis." Thereby giving God all the glory due His name. This is what I gathered from what the man of God said. I might not know how exactly, but I believe it. I believe the level of fear we have on earth now is uncalled-for. God is taking care of things. Let's keep obeying the rules. Let's keep praying! Let's keep working to contain the virus.
2. It reassures your loved ones of your continuous presence.
It's better to be missed for a while by a significant few than to be missed forever by the world. This is just a better way to let you find comfort in the stay at home confinement for a while. Of course, you will be missed by some friends, loved ones and family. But think about being infected by the disease convid19 and are dead. Think about those who have died of convid19, they all have families and loved ones too. But sadly, they are missed by both their families and us all. Every victim of Covid19 is taken away from their loved ones either by isolation or death. But we all need you, the world needs you and wants you here. So the 'stay at home' policy is a way to guarantee your presence to your loved ones rather than be snatched by Covid-19.
3. It improves marital bonding
This convid19 stay home policy will help some couples to bond better without the daily hassle of life. Whatever excuse the couples have been giving each other for not being there, it's the right time to stay close to each and talk about things of marital importance. The more they bond together, the stronger the relationship gets.
4. It highlights the love factor
Although one can see the social distancing as a minus in socializing hence thumbs down in loving your neighbor, it's actually the opposite. It's a plus in socialization. You distance yourself from the others because you love them and do not want to harm them in case you're infected. If you are not infected, you still love those you shall meet later, therefore, you take precautionary measures to protect yourself so that you don't go and infect others you would meet later. To me, that's love. Whenever you do social distancing or stay at home because of convid19, you are loving yourself, hence your safety and are loving others too, hence their safety.
5. It helps reduce selfishness
Staying at home because of convid19 is not about your safety alone but that of others too. Even if you give every reason to be free of it and healthy, you still have to obey the rule and limit yourself because of the safety of others too. The situation makes us think about others who are not part of our families too. This reduces selfishness.
6. It unites nations and people of the world
We see nations coming together taking similar actions to fight Covid-19. We see the people of the world showing solidarity with one another. If you have never heard about the world being a global village, this is a good time to think about that phenomenon.
It shouldn't come as a surprise to you that some of the big names we know are Covid-19 victims. The disease is affecting all of us without respect of status, financial background, race, color, age or gender. It doesn't care how clever, smart or dull you are.
We are all one humanity suffering from the same crisis and taking similar actions to try to contain the outbreak. I would want this lesson of unity to outlive this convid19 saga. May we see the world as a small village with a common problem. May we protect the world knowing that whatever we do in the east might affect those in the west, North and South.
7. It increases internet reliability & resourcefulness
Some people until now have not really considered the internet as an indispensable tool for work, business, and other resources. With the convid19 confinement and limitation, a lot of businesses have taken the online aspect seriously. There are far too many people connected on the internet for work purposes, businesses and education too. This is a good thing.
8. It decreases Air pollution & cleanses the air we breathe
Because of travel restrictions in place, there are no or few vehicular movements which means a fall in Carbon monoxide emission. Less CO in the atmosphere also means less air pollution, clearer skies and more clean air to breathe. This, in turn, will reduce respiratory infections and breathing difficulties. It's an advantage because of the convid19 pandemic.
9. It breeds new sea life
The travel restrictions in Europe, and maybe other cities of the world, has seen some rivers, lakes and even seas quiet and teeming with vibrant sea life because of less human movements with boats, ships and other leisure means of transporting people on vacation, etc.
In Venice, Italy as we speak, the water is clearer now because there is less traffic on the canals, allowing the sediment to stay at the water bottom. People could literally see fish in the waters and various birds have found the canal a refreshing location without the fear of oncoming boats. In Belgium and the Netherlands, there are beaches that used to be packed and jammed with people entirely empty. You could hardly see one person or boat in sight. This, however, might be short-lived if movements come back to the status quo.
We shall stop here as we continue to observe the progression in mitigating the Covid-19 situation. Maybe, you've noticed something somewhere. Now tell us what other advantage(s)   as a result of the Covid-19 crisis have you observed?
You may also like to read the positive takes on the Covid-19 crisis
Authored by Carlo for Smartcouples.net. CopyRight 2020. All rights reserved.