How to be the COVID-19 couple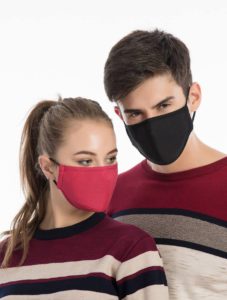 I guess you thought you misread the title of the article. Or you might have read it and said, "What? How to be a COVID-19 couple? The blood of Jesus! I don't wanna be infected." No, we don't want you to be infected, we want you to be protected. And yes, it's about how to be the COVID-19 couple, because there's a lot of misinformation out there that creates false hope and leads people astray. People are getting sick and some dying from what they thought was safe for them. Although the lockdown has been eased in many places, the main killer virus is still real.
Wake-Up!
We want to wake you up to not fall asleep while the coronavirus keeps raving mad and killing lives. People don't seem to take the fear and protection against the virus seriously because of what we see as poor leadership coming from world leaders who should have been the ones setting the pace in the fight against the coronavirus pandemic.
The coronavirus pandemic isn't over at all, and don't believe anyone who tells you so. In fact, there's no medication, no cure, no vaccine out yet for the fight of this type of coronavirus within the human body.
But much effort is made by various medical authorities to come up with the one cure that works, be it vaccine or whatever. But the truth is that until then, the virus is still with us and still as powerful as it was when it started.
People are dying in an untold proportion. The United States of America is seeing her 120.000 deaths and above. Brazil is hard hit also with over 48000 deaths and counting. There are deaths in many nations amid the lockdown eased. The virus is still deadly.
Do The Needful
What should we then do to fight it? A simple and good question. We should do what we've been doing. What we have been told since it started. We've to keep washing our hands constantly with soap and water. Or we've to keep using hand sanitizers on our hands whenever we can't wash them. Effective sanitizers should have a good percentage of alcohol in it. It should be an alcohol-based hand sanitizer, and this comes in various forms: hand gel of varied viscosity, liquid sprays, and rubs.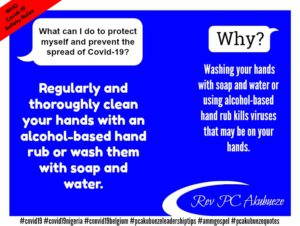 Some use lasers to sanitize and air pump sprays. Whatever you choose, be sure it's good for you and of a source you can trust. Don't fall victim to fake sanitizers which can endanger your life. Always buy from a pharmacy as of your first choice, or from a registered distributor and do check the date of expiration of the product so you don't buy what has already expired.
That said, there's more you as a couple can still do to protect yourselves and that is the wearing of face masks. This is highly recommended and we expect you to show leadership in your family and households in doing what you could to protect your lives.
Some government leaderships have failed the people but others are getting it right. It astonishes me to see leaders preach what they don't do at all. They work to show others how good they are in the fight against coronavirus but they ignore instructions and disrespect authorities known for their years of hard work in disease control.
Couples Are Leaders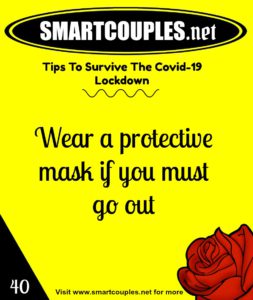 Beloved couples, I'm talking to you from the heart because you are all leaders. You the wives and husbands are leaders of your homes and communities. What you do can affect and influence the lives of those around you for good or bad. The Covid-19 couples are those who follow instructions given them for the safety of their health. The Covid-19 couples are responsible couples. You are adults, do what you think is right, not what you see some people in positions of power do. If you don't have a reason to copy or emulate someone, don't emulate them.
Also, see the 10 Ways Couples Can Show Leadership During The Covid-19 Pandemic 
As leaders, wearing a face mask can help reduce cases of COVID-19 drastically as it protects you from contracting it from someone else. And protect others from getting it from you. You see, sometimes, people are asymptomatic and they know it not. Asymptomatic means the person is a carrier of the coronavirus but not showing signs of sickness or any symptoms as being infected.
So these people can have it and still look as strong that you think they are okay to mingle with without protection but end up being sick yourself. A problem with these asymptomatic people is that they aren't sick but can pass it onto others easily and those who contract it might not be lucky as they are. So for the maximum guarantee, wear a face mask each time you are sharing public spaces with others.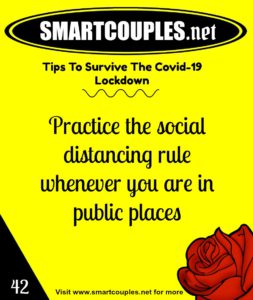 There are a lot of masks available in the market that you can buy, a host of them indeed. You can select those which fit your taste and style. They are also made from fabrics that can match your outfit and fashion. Some are washable and others aren't. Choose whatever you like but wear a face mask on. If for any reason you cannot afford a face mask, please, let us know and we would gladly assist you. You can email us or direct message us via our Instagram page smartcouple.net
The next thing to do as a leader of your family is to keep six feet or two-meter distance from others within public spaces. It's called social distancing, or social distance. For more on this, see this article right here.
Show true leadership as couples at home and around your community. Avoid physical contact with others, for now, this includes, kissing, hugging, handshakes, embracing others, or carrying up people like children who aren't yours. Just be safe and think of the safety of others too.
Many nations have relaxed their lockdowns which could give a false sense of safety, you know, making people feel that the pandemic is over. It isn't however. Although they have tried successfully to flatten their curve, the coronavirus pandemic is still as strong as when it started. So you too should not let down your safety measures as yet and behave as if nothing was happening.
Stay protected as you wear a mask, respect the social distance policy and wash your hands often or use a hand sanitizer. This is how to be the COVID-19 couple at a time like this. Stay safe everyone.
You may like, How Couples Can Lead Amidst Rising Cases Of Covid-19 Victims
Written for Smartcouples.net. Copyright 2020. All rights reserved